---
Main content
Top content
Workshops and facilities
Werkstätten und Ausstattung
The well-equipped textile workshops at Osnabrück University enable creative, technical/design and experimental work to be carried out in an academic context, either individually, collaboratively or as part of a project.
The workshops and laboratories in the areas of weaving, knitting, sewing, embroidery, tufting, printing and pattern design (PC pool) are equipped for handicraft and computerized work. As a result, students can learn not only handicraft, but also industrial, analogue and digital processes.
A presentation of the individual workshops and facilities will follow shortly on this site. First off – the area of weaving, with the TC2 digital Jacquard loom. Other devices to follow ...
TC2 digital Jacquard loom
Weaving width 73 cm
Digital control, preparation of the weaving cartridge from the hand-drawn design and processing in Photoshop to the finished weaving design.
Used for teaching, for collaborative projects and student designs, e.g. for the creation of a collection of wool blankets for the Tuchmacher Museum Bramsche in the Bauhaus project, the prototype of the academic scarf for doctoral candidates at Osnabrück University, and the creation of a collection for the historic Beiderwand Weaving Workshop run by Stiftung Mensch in Meldorf.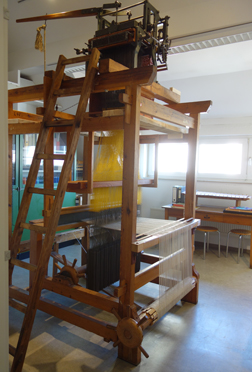 Punchcard Jacquard loom
From analogue to digital:
The fully functional punchcard Jacquard loom at Osnabrück University's Department of Textile Studies is an impressive demonstration of the transformation from analogue to digital technology in textiles.
Der Lochkartenjacquardwebstuhl in Osnabrück ist ausgestattet mit einer 400er Chemnitzer Grobstich Jacquardmaschine.
The punchcard Jacquard loom in Osnabrück is equipped with a 400 Chemnitz coarse stitch Jacquard machine. It also comes with a card punching machine, a card sewing board and a Jacquard teaching model. Textile Studies students are able to experience the entire work procedure – from making the design, drawing the cartridge, and punching and sewing the card, to hooking the punchcard into the Jacquard machine and weaving on the Jacquard loom. The loom is used for teaching, e.g. in preparation for the textiles excursion to Sri Lanka or in the course entitled "From Analogue to Digital."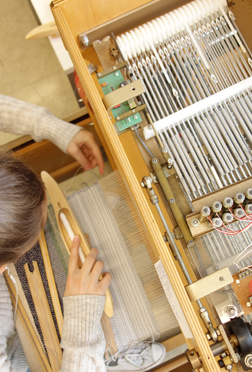 Digital pattern loom
Patronic designer loom
The Patronic loom is a digital pattern loom with 24 shafts. The fabric cartridge is created in a digital weaving program such as DB Weave, Weave Point or Pointcarré, retrieved on the loom and implemented by hand as a fabric. The pattern loom enables students to experiment flexibly with a wide variety of fabric weaves, and creates a bridge from the analogue technology on the countermarch loom to digital implementation.
Countermarch loom
Eight shafts / eight treadles:
The countermarch loom at the Department of Textile Studies has a weaving width of 80 centimeters, eight shafts and eight treadles. It is used in teaching to experiment with weaves, materials and the implementation of fabric designs, e.g. in the course on "Patterns and Material" or the development of a collection for the Women Weave Project with Tamil war widows in the north of Sri Lanka.