---
Main content
Top content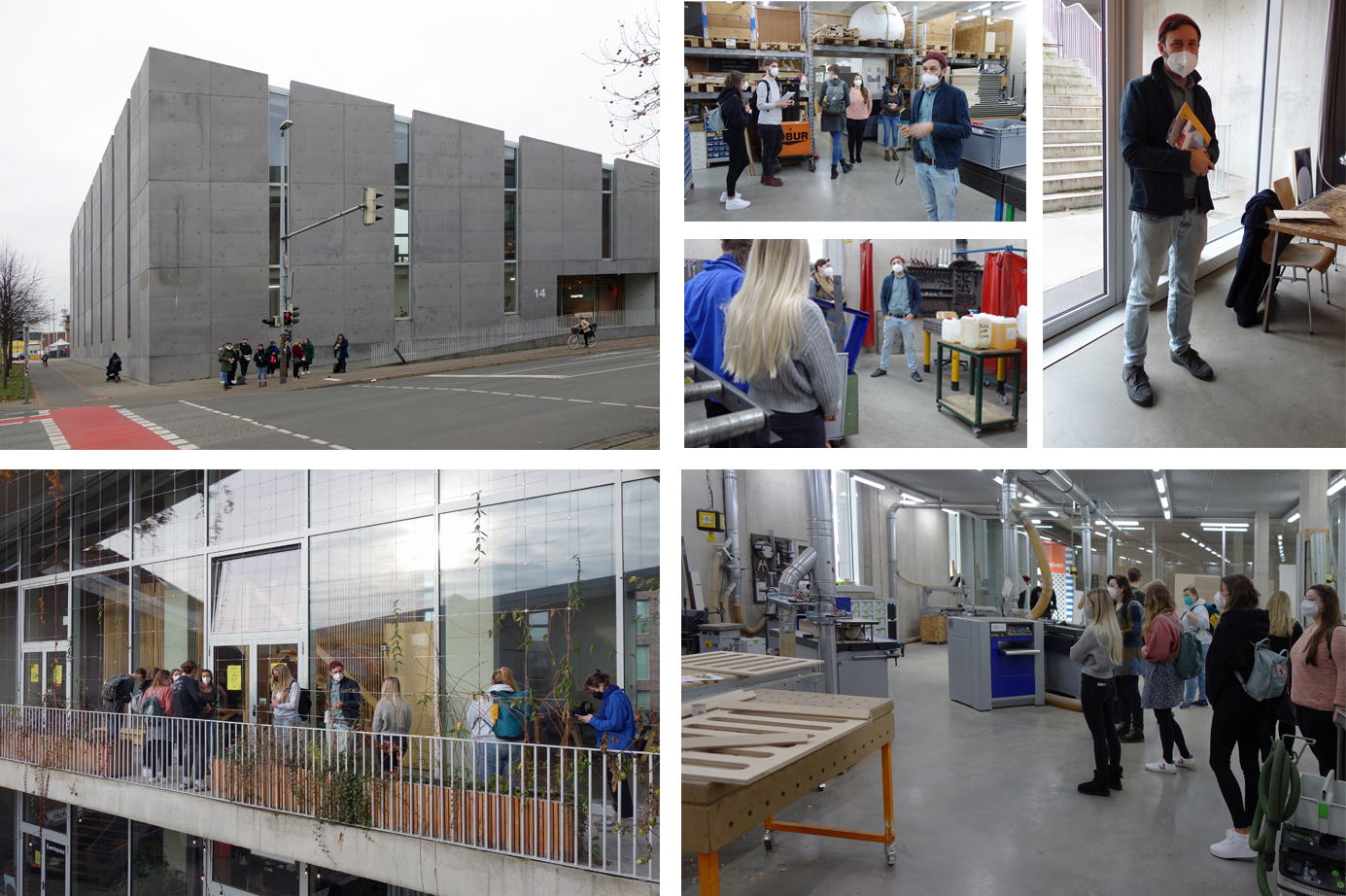 Excursion to Hanover
Makerspace Hafven and Use-less exhibition
For the first time after three digital semesters, real excursions are taking place again in Textile Studies at the University of Osnabrück. One of the first took the students to Hanover to the Makerspace Hafven and the Use-less exhibition at the August Kestner Museum .
Hafven co-founder Christoph Zimmermann guided the students through the workshops and the co-working spaces with an inspiring exchange of ideas in the Hafven Café. The students were enthusiastic about the courage, the visions and the community spirit behind the Hafven concept. Also exciting was a newly planned project with students that is to start soon. Many thanks to Christoph Zimmermann and team.
The visit is part of a project of Textile Studies "Textile Studies, Craft Education and Makerspaces" funded by the Ministry of Education and Cultural Affairs of Lower Saxony, for which research trips to Finland, the Netherlands and Belgium have taken place in recent weeks. Read more in the Finland Travel Diaries and the Netherlands/Belgium Travelreport
Afterwards, we went to the Use-less exhibition at the August Kestner Museum. Many thanks for the guided tour on the topic of slow fashion to Annika Wellmann and insights into museum education to Anina Mangels and Jorina Hansen.
Further Information: https://www.hafven.de/ and https://useless-ausstellung.de/
Caption (photo above): Makerspace Hafven - Außenansicht, Galerie im Innehof, Werkstattführung, Holzwerkstatt, Mitgründer Christoph Zimmermann.
Caption (poto below): Use-less-Ausstellung im August Kestner Museum - Informationsmaterial, Ausstellungsansicht, Exponat Kindertunika, Gebrauchttextilien, Ausstellungseingang, Exponat Strickomat.
photos: Lucia Schwalenberg
-------
Alvesrode spinning mill
Video excursion with students to Carina Reso's spinning mill
During hybrid teaching, a video excursion to "Die kleine Spinnerei" (The small spinning mill) of agriculturalist Carina Reso in Alvesrode am Deister was held in Textile Studies. Carina Reso runs her own spinning mill as part of the family farm. The aim is to process, wash, spin and dye wool from their own alpacas and cashmere goats, as well as customer orders from domestic, regional breeds of sheep. These breeds of sheep include Coburg Fox sheep, Gotland sheep and Texel sheep. Thanks to modern spinning technology, this is also possible in small quantities. Carina Reso combines an old traditional craft with state-of-the-art technology, and spins the thread to create a sustainable, regional product. The video excursion was part of Lucia Schwalenberg's course entitled "FROM THE SCRATCH – Textile Self-Sufficiency: Vision or Utopia" with Lucia Schwalenberg.
Photos: Lucia Schwalenberg
Excursion to NEONYT, the fair for sustainable fashion in Berlin
NEONYT is a fair for green fashion that addresses the issue of fashion and sustainability. The fair, embedded in Berlin Fashion Week, took place at the now decommissioned Tempelhof Airport in January 2020. Sustainable fashion labels presented their collections. The FASHIONSUSTAIN conference was held in parallel. The trade fair is intended for specialist visitors. Eight Textile Studies students attended the event. Several students extended their stay in Berlin to visit the SLOW FASHION exhibition at the Museum of European Cultures or to research the topics of fashion, fair fashion and fashion consumption in the local studio and second-hand shop scene. There are plans for NEONYT to relocate to Frankfurt in 2021, together with Fashion Week.
-------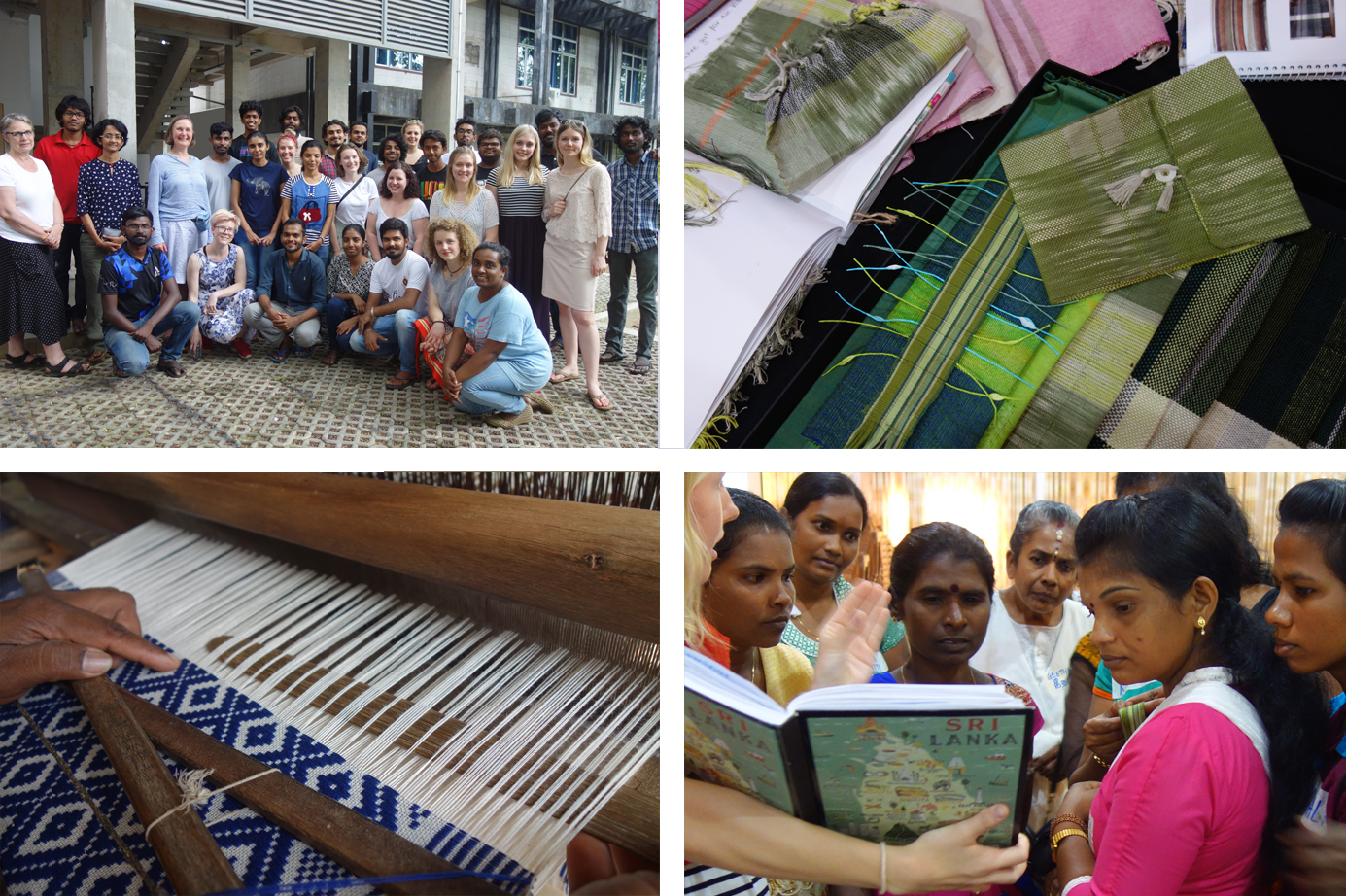 Textile excursion to Sri Lanka
Excursion to a country with a rich textile tradition
A group of Textile Studies students and lecturers travelled to Sri Lanka in spring 2018 for a three-week textile excursion.
Sri Lanka is a country with a rich textile tradition, particularly in the field of weaving. After nearly 30 years of civil war, the country is in the process of reconstruction. Handlooms are being installed and used to produce local textiles in social projects, handicraft centers and manufactories, independent of mass production in industrial free trade zones. To be able to successfully market hand-woven textiles, not only craftsmanship but also a high-quality design are essential.
The concrete task of the excursion group under the project leadership of Professor Dr. Bärbel Schmidt was to support a social project in the former Tamil civil war region in the north of Sri Lanka. The students developed and presented designs for hand-woven textiles for WEAVE, a project that enables single mothers – often Tamil war widows – to earn their own income by working in cooperatives and on domestic looms.
Other parts of the textile excursion included visits to textile universities on the island, a traditional weaving village in the Tamil area, a dyeing initiative in the mountains of Sri Lanka, textile manufacturers, textile artists and designers, the National Crafts Council, Colombo National Museum Colombo and the Goethe-Institut.
The joint workshop with students from the University of Morutawa focused on sharing textile techniques, teaching design skills and educational concepts. Teaching staff and students from the University of Moratuwa and Sri Lanka's Academy of Design (AOD), which the students also visited, were particularly interested in the excellent technical workshop equipment at Osnabrück's Department of Textile Studies. The department has just newly acquired a future-oriented digital hand Jacquard loom, and its workshop has been restructured, including the repair of a historic punchcard Jacquard loom – the only one owned by a university in Germany.
The preparation of the cooperation and excursion was facilitated by international contacts of Osnabrück University graduate Dr. Mirja Kekeritz, who is conducting research in Sri Lanka on a DAAD scholarship.
Participating students: Catrin Adam, Pauline Becking, Amelie Gieschler, Cynthia Göcken, Anna-Katharina Kestel, Anna Klinar, Carolin Polaczyk, Lara Schöber, Rieke Scholle.
Participating lecturers: Professor Dr. Bärbel Schmidt, Dipl. Des. Lucia Schwalenberg
Photos: Lucia Schwalenberg
Photos: Lucia Schwalenberg
Prof. Dr. Bärbel Schmidt /Dr. Mirja Kekeritz /Lucia Schwalenberg
Textilexkursion Sri Lanka
Format 14,8 x 21 cm
32 Seiten, zahlreiche farbige Abbildungen
Universität Osnabrück/Textiles Gestalten 2018
Textile excursion to Sri Lanka
------------